Vineyard Haven & West Tisbury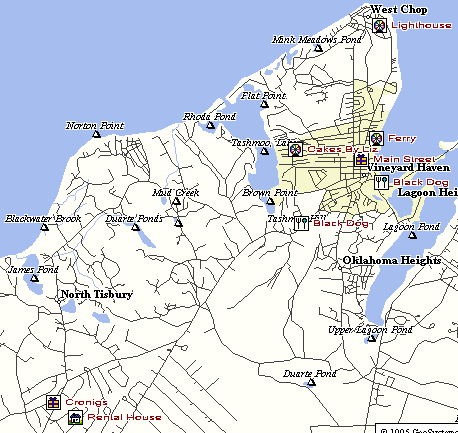 The ferry came into Vineyard Haven, the commercial center of the island. Our rental house was in West Tisbury (lower left corner of map), nearly midway between the ferry and Grandma's house.
Main Street: Shopping street with lots of souvenir places. Everyone (I mean everyone) found the store that sold $10 Martha's Vineyard sweatshirts. We got our tuxes from Brickman's along that street.
West Chop: One of the many lighthouses on the Vineyard. We liked Gay Head's better, while others liked Edgartown's.
The Black Dog: One of the signature items for the island are the Black Dog t-shirts. I don't think anyone got one, though.
Rental House: Everyone loved our rental house. Here is where we found out about the place way back when: www.weneedavacation.com/Cape/2451.htm.
---
Back to Map