Chilmark & Gay Head


Including Menemsha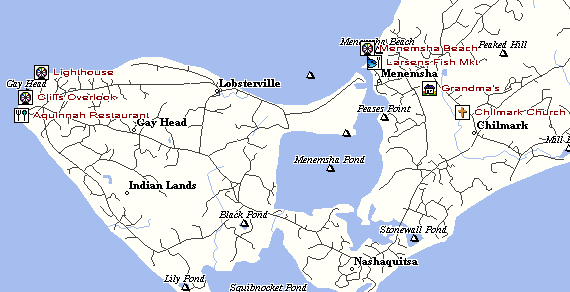 Our wedding and reception was in the town of Chilmark. Menemsha was the fishing village where we had the rehearsal dinner and "buzzed the bight". Gay Head had colorful cliffs and great ocean views.
Chilmark Community Church: Quaint New England church, perfect for a Vineyard wedding.
Larsen's Fish Market: The family business. We got all of our fish from here and assembled the clambake ingredients.
Menemsha Beach: Not too many people tried to swim, but everyone enjoyed our rehearsal dinner cookout here.
Gay Head: Past some shops selling Indian articles is an area for looking at the scenic cliffs and lighthouse. The nearby Aquinnah restaurant had terrific views of the ocean.
---
Back to Map