Downtown Boston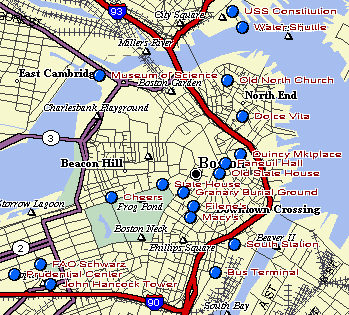 We love Boston and made sure we spent a lot of time here. We relished the opportunities to show people around the big city.
Freedom Trail: Historical trail that winds through downtown Boston. Highlights included the State House (capitol), Granary Burial Ground (Mother Goose's and Paul Revere's graves), Old State House, and Old North Church.
USS Constitution: We revisited the ship for the first time since our 1996 harbor cruise.
Faneuil Hall: Shopping center and food court. Flory did some of her best videography here (right, Marcus?).
Filene's: As expected, Filene's Basement was a big hit with everyone.
John Hancock Tower: At night, we went to see the city from the 60th floor.
Museum of Science: We weren't overly impressed with this science museum, although the dinosaurs and real R2-D2 were pretty cool.
Water Shuttle: For $1, we got to take a cruise from the Constitution to downtown, providing excellent skyline views.
Salem Witch Museum: In Salem, about 30 minutes north of Boston. Somehow, we figured out how to get here.
---
Back to Map